Falcon provides industrial solutions throughout the execution phase to corporate and financial institutions facing complicated and strategic business decisions
About Us
The Falcon team consists of international business leaders focusing on enhancing values in underperforming companies, in addition to support value creation for growth companies. The team aims to capitalise on vast international Management/Board experience from more than 60 various companies worldwide in a range of industries.
Executing restructuring of non-performing companies and realisation of non-core business divisions varies significantly from management the day-to-day operations in an organisation. To minimize risk and maximize stakeholder value in such situations requires unique skills, to avoid the interruption of the going-concern business. 
The team has extensive experience in taking underperforming, distressed and non-core businesses through challenging periods.  Experience shows that underperforming and non-core businesses frequently take a large part of a company's management attention, energy that is often better utilised on value creation in the core business of a company.
Further, Falcon has access to capital for investments if projects requires external financing. Capital is available for both recapitalisations and growth purposes.
Our clients are typically banks, private equity companies, financial institutions, international stock listed conglomerates, private companies and investors. The Falcon team operates out from Oslo, Norway.
Value Creation
Execute
Restructurings
We enhance values through managing complex processes in companies facing challenging restructuring situations and business development opportunities.
Execute
Non-Core
Value realization by spin-offs of none-core operations to enhance value through structured transactions, allowing Company management and owners focusing on core business
Execute
Transitions
Securing values through executing challenging ownership discussions, including company, family and partnership transitions to ensure smooth and discrete transitions of values through generations
The Team
Knut Øversjøen
Managing Partner
+47 908 60 619

Executive summary
25 years of top management experience from multiple industries through both operational management and board positions. Has been directly involved in some of the most complex restructuring processes in Norway over the last 20 years. Management of complex restructuring processes (both operational and financial) and extensive M&A experience.
Core Competence
Strong business understanding, hands on management and a financial mindset in combination with strong focus on execution makes the agreed upon strategies and actions happened. Inclusive management style.
Core experience
• Operational restructuring experience: Enitel bankruptcy 2001, PGS 2003, Kverneland 2006, Global Tender Barges 2009
• Relevant board positions: REC restructuring, Reinertsen, Relacom, Scansense, ARD-Group, Swan Reefer, Actinor Shipping
• Other BOD positions: Asetek ASA, Aega ASA, Spond, Guardian Corporate, Sparebank 1 Midt Norge, Fesil, Fjellkraft, Ementor (Atea), Sønnico, Unitor  
Lars Tendal
Partner
+47 911 65 831

Executive summary
More than 20 years of top management experience from B2C and B2B organizations. 5 years in sales and marketing management. Robust problem solver with high level of persistence, drive and work capacity. Broad operational as well as strategy and business development experience from a number of industries
Core Competence
Strategy, business and brand development. Operational management and execution, change management and continuously efficiency improvement
Core experience
• Operational restructuring experience: Wenaas Workwear (2012-16), Expert Norway (2010-12), Posten Norge, the single largest turnaround process in Norway – reduction of more than 12.000 FTE and transformed the company to be efficient and customer driven (2001-10)
• Sales and strategy execution: ICA Norway (1999 – 01), Orkla Snacks & Confectionaries (1994 – 99)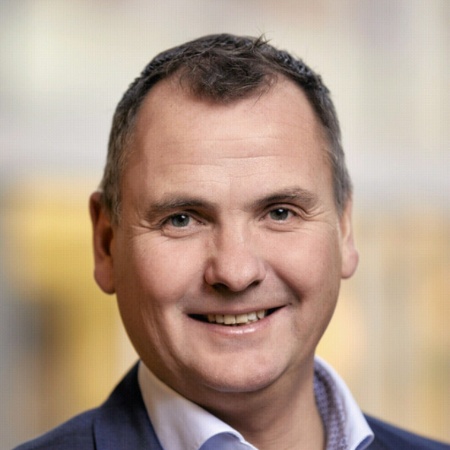 Bjørn Arve Ofstad
Partner
+47 995 50 870

Summary
20 years in Executive management/Board positions in both stock listed and P/E owned companies, on operational and strategic levels within sales & marketing, distribution, product management, export, sourcing, production, logistic, product development and after sales service.
Key Services:
• Interim management CEO/MD positions (turnaround business cases/18-36 months)
• Active board positions, implementation support
Key capabilities
• Strategic mindset combined with analytical and commercial approach
• Open, direct, energetic and confident
• Hands on management of turnarounds with complexity
• Strong communicator and effective teambuilder
Key deliverables
• Cost-cutting programs
• New business processes with commercial focus
• Outsourcing non-core activities
• New strategies with adapted business models
• Developing management to strategic fit 
Inspired by the king of all birds, known for being the fastest-moving creature on Earth, representing visionary power, wisdom and guardianship, Falcon aims to serve its stakeholders with similar exceptional skills and service.
Contact
Falcon Industrial Partners
Haakon VIIs gate 1
0161 Oslo